dancingdragon3.livejournal.com posting in

fanficfocus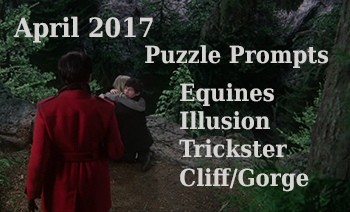 What: First new puzzle of the new year!
Why: For striving, accomplishment, glory, and banners!
When: To enter the contest proper and recieve a banner, post fics to

puzzleprompts
by 11pm EST, Sunday April 30th. Give or take 12 hours for emergencies. Otherwise, puzzles may be posted wherever and whenever you want, including to our AO3 archive.
Reminder: Entries may also be answers to other comms' prompts. But please, wherever you post, include a link to

puzzleprompts
, thanks!
Note to FanFicFocus - Thanks to the mods for affiliating with Puzzle Prompts! This prompt comm started as a way for me to provide prompts to three comms with different focuses, and grew from there. The prompts are made with SFF in mind, but are meant to be usable for any genre. I suggest checking out the
Rules and Guidelines
before the new puzzle :-)